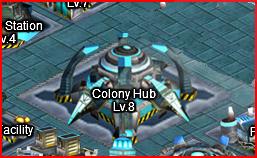 The colony hub is the first and most important building in your colony.
No building can be higher level than it is.
Each level past 1 speeds up building times for ALL other buildings in the colony.
It also provides a safe storage for colony resources.
The initial colony has 19 unlocked plots. The colony hub unlocks an additional plot for levels 5-10, up to 25. A commercial center is needed to unlock the remaining 10 plots to the colony maximum of 35.
Upgrade Requirements
Edit
Colony hub build costs and output

| Building Level | Food | Ore | Goods | Effect on Construction Rate % | Effect on Population Max | Effect on Colony Space (Total) | Effect on Resource Secure Storage | Population Demand = Increase | Governor Demand | Air Demand (other than main planet) |
| --- | --- | --- | --- | --- | --- | --- | --- | --- | --- | --- |
| 1 | | | | 1 | 1 | 19 | 500 | 1 | | |
| 2 | | | | 2 | 2 | 19 | 1000 | 2 | | |
| 3 | 100 | 0 | 60 | 4 | 3 | 19 | 1500 | 3 | | |
| 4 | 200 | 0 | 100 | 5 | 4 | 19 | 2000 | 4 | | |
| 5 | 450 | 50 | 150 | | 5 | 20 | 2500 | 5 | | |
| 6 | 1100 | 580 | | | 6 | 21 | 3000 | 6 | | |
| 7 | | | | | 7 | 22 | 3500 | 7 | | |
| 8 | | | | | 8 | 23 | 4000 | 8 | | |
| 9 | | | | 17 | 9 | 24 | 4500 | 9 | | 8 |
| 10 | | | | 20 | 10 | 25 | 5000 | 10 | | 9 |
| 11 | | | | | 11 | 25* | 5500 | 11 | | 10 |
| 12 | | | | 25 | 12 | 25* | 6000 | 12 | | 11 |
| 13 | | | | | 13 | 25* | 6500 | 13 | | 12 |
| 14 | | | | | 14 | 25* | 7000 | 14 | | 13 |
| 15 | | | | | 15 | 25* | 7500 | 15 | | 14 |
| 16 | | | | | 16 | 25* | 8000 | 16 | | 15 |
| 17 | 15000 | 9000 | 2000 | 38 | 17 | 25* | 8500 | 17 | | 16 |
| 18 | 18000 | 14000 | 2500 | 40 | 18 | 25* | 9000 | 18 | | 17 |
| 19 | 25000 | 18000 | 4000 | 43 | 19 | 25* | 9500 | 19 | | 18 |
| 20 | 30000 | 24000 | 6000 | 45 | 20 | 25* | 10000 | 20 | | 19 |